Tumblr(.com) is a cool blogging service. It allows quick blog posting with easy to use tools and interface. If you are not too impressed with indexing of your Tumblr blog, then tryout tumblrMap. This web service automatically generates XML sitemap of your tumblr blog and allows direct submission to Google for indexing. To get started, login using existing tumblr account (yeah, no seperate account creation!).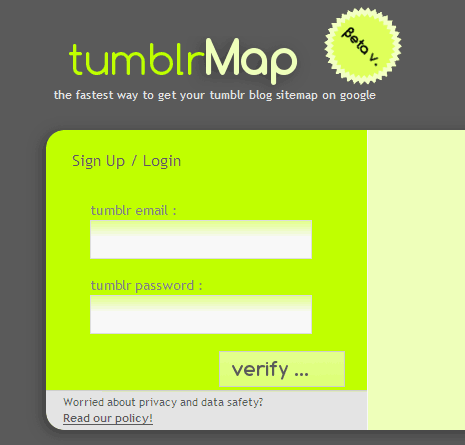 Related – 15+ Tools to Create Sitemap of blog or website
Select either of blog in your Tumblr account and preview the XML sitemap of your blog. Add quick meta tag to your tumblr blog and submit it to Google for quick indexing. By default Tumblr does provide sitemap for your blog but this service make sitemap creation and submission very easy.
Technical aspects of blog like sitemap are not easily digestible by ever user. It can build sitemap twice a day with option for on-request sitemap rebuild and Google ping. Get your Tumblr blog optimized for Google using Tumblr Map, interested?