Google wants to speed up the web and as a result included 'website speed' is an important factor for searching engine ranking. Besides checking speed details in Google Webmaster Tools, you can also use Yahoo Yslow and Google page speed plugins for detailed analyses of website loading time and speed. For majority of users understanding Yahoo Yslow and Google Page Speed can be a big task. Making things easy is an online tool GTmetrix.
GTmetrix online tool to check website speed
GTmetrix is an online tool that uses Google Page Speed and Yahoo YSlow to grade website performance. It also provide actionable recommendations to fix specific issues resulting in slow website speed.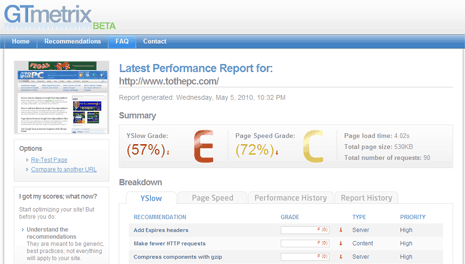 To get started, enter website URL and click GO button. It will display website speed performance analyses results for both Yahoo Yslow and Google Page Speed. You can view detailed results within web browser and check recommendation to fix problems. For sure one handy and detailed way to check website speed within web browser, without need to install any plugin software!