A single webpage of a blog or website can contain lot of links. Checking each and every link manually is a big task. Small utility "SiteVerify" makes this process all automated, easy and quick. For any specified URL, it checks all the hyperlinks / achor tags on a webpage. It only check internal links marking visited links as blue and dead links as red.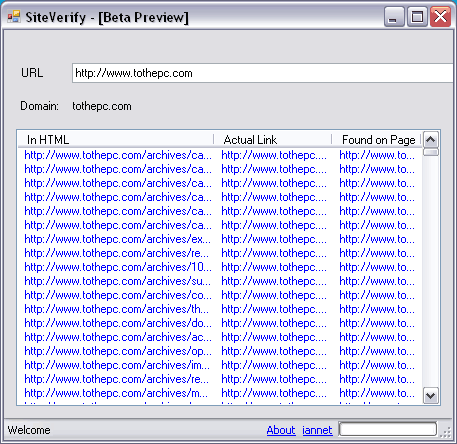 Verify Anchor tags with SiteVerify
1. Download SiteVerify utility.
2. Unzip downloaded file & launch the utility (no install).
3. Enter URL of any website (say http://www.tothepc.com).
4. Click GO to view hyperlinks, anchor tags of specified URL.
Also See – Track & monitor keyword position in Google search
You can configure depth value to adjust how far SiteVerify utility will lookup. It is a portable utility and does not require install. It requires Microsoft .NET Framework 2.0 and works fines on Windows 7, Vista, XP, 2000. Handy utility to check links on a webpage in one go – saves time & efforts!