Do you have hard copy paper document that should be digitized into JPEG image or PDF format? STP (Scan to PDF) is a small utility that makes this conversion real easy. Besides this utility you will need scanner for actual conversion of documents into digital format. To get started, click "Scan new page" button.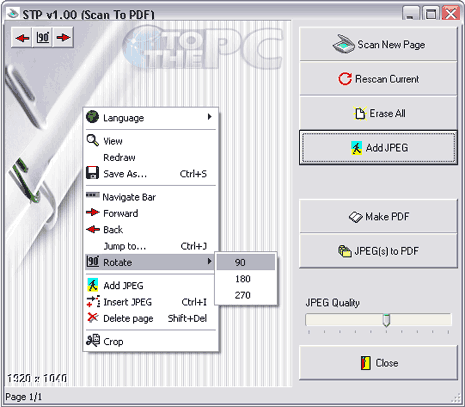 Then select scanner from the pop-up box. Image Screenshot of document being scanned will appear in the appllication window. Now you can perform basic image editing functions like cropping and rotating. You can also set quality of output JPEG file using slider.
Besides scanning, you can directly import any JPG image file in the application using "Add JPEG" button. Then click "Make PDF" button, a PDF file containing selected JPEG image will be saved in the application folder. Download STP (Scan to PDF) for quick Scanned JPEG image to PDF conversion, it is a portable tool and does not require install.