There are times we copy text from a webpage and paste contents in Word processor. Text for sure is copied but along with text formatting – which may not be required in most cases.
Alternatively, we can first paste text in notepad and then copy – paste text in Word processor. Too much of hassle? Well, you can covert copied formatted text into plain text on the fly via hotkey using tiny application PureText [13KB].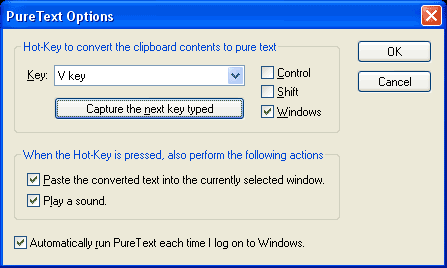 Pure Text sits on the taskbar and converts clipboard text into plain text (when activated). You can configure hotkey for text conversion other than Windows default paste hotkey (Win + V).
Besides selecting unique paste hotkey, you can configure it to play sound when formatted text is converted into plain text and pasted in active window.
Download PureText [link] very handy utility if you save web content on regular basis or otherwise. (Works fine on Windows 2003, XP & Vista).