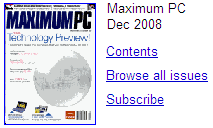 Google is lot more than just web search, besides helping you out with holiday blues – it is all set to become hot destination to read your favorite magazines online. You can browse and read number of popular magazines online at Google Book search (of course, its all FREE!).
Previously Google put brakes on magazine digitization process due to legal hassles. Google has now settled things on legal front and is full steam ahead in getting best magazines online. Here are few worth checking out:
There are many more magazines covering different topics, just head over to Google Book Search and enjoy your favorite magazines with a click of a button!