XPS document format in Windows Vista is a document format, Windows spool file format and page description language (PDL) for printers. XPS Removal tool can come handy, if you do not want to use Microsoft XPS Document Writer (MXDW) printer to create XPS document on the computer. You can uninstall and remove it using XPS Removal tool.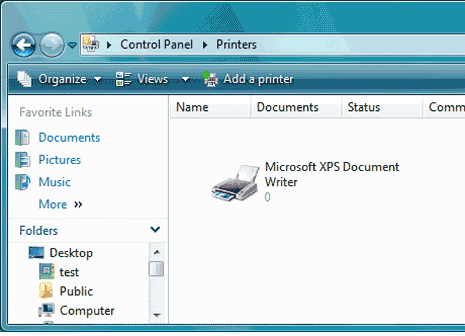 Features of XPS removal tool
1. Removes Microsoft XPS Document Writer printer from printer folder
2. Removes Microsoft XPS Document Writer print driver (both 32-bit & 64-bit)
3. Removes XPS Services Library
4. Cleans up XPS driver package files
5. Removes MXDW print queue
6. Uninstalls XPS Essential Pack from Windows XP, Windows Server 2003
Download XPS Removal Tool, you can always reinstall XPS package back on Windows Vista computer. Goto Control Panel > Hardware and Sound > Add a printer and then click Add a local printer. On the "Install the printer driver" screen, select option add the Microsoft XPS Document Writer under "Microsoft".