[For XP users only] Is your LCD display little blurry and text little difficult to read? Clear Type Font smoothing should do the trick for better readability on your LCD display. Clear Tweak is a free utility that allows you to make changes to Clear Type contrast settings on Windows XP computer for better LCD display.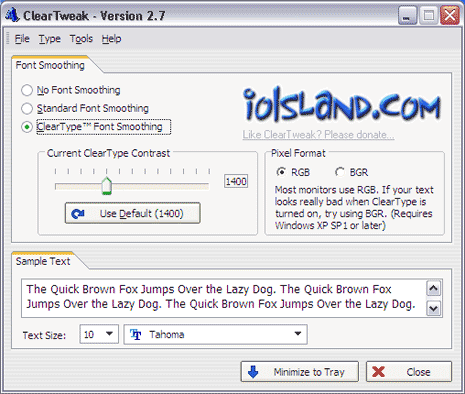 Change ClearType contrast settings
1. Download ClearTweak utility for Windows XP computer.
2. Install the utility and launch it.
3. Click to highlight option"ClearType Font Smoothing".
4. Move the slider to adjust ClearType contrast.
5. See the live preview in Sample Text window while making adjustments.
This works best for LCD display text but you can also try it to improve readability on CRT monitors. To use ClearType, your video adapter and monitor should support minimum of 256 color setting. Also, best results are achieved with High color (24-bit) or Highest color (32-bit) support. Try it for better readability on LCD display!