Are you getting any error while using Windows Media player on the computer? You can easily start and end (in most cases) Windows Media player troubleshooting and fixing using small utility Fix WMP. It has been released by theWindowsClub website dedicated to Windows and related technologies.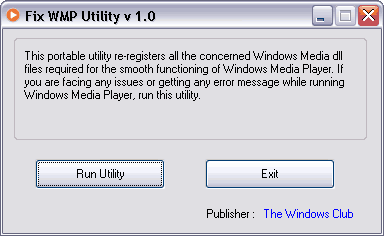 This utility will re-register over 40 dll files required for the smooth functioning of Windows Media Players and fix issues. It is a portable utility: download Fix WMP, unzip the file and double click to launch the utility. Click Run utility button to fix probable issue with Windows Media player. It works fine on Windows 7, Vista and XP systems.
In case this does not fix issue, you can move to advanced troubleshooting steps.