There are number of Twitter client tools (like Tweetdeck, bDule, Chirp) with all hog of features, enhancements (and confusion for new users). If you only want to read latest tweets and able to send quick tweets to your Twitter friends, then Sticky Tweets should rock for you. It is portable and very simple Twitter client without any strings.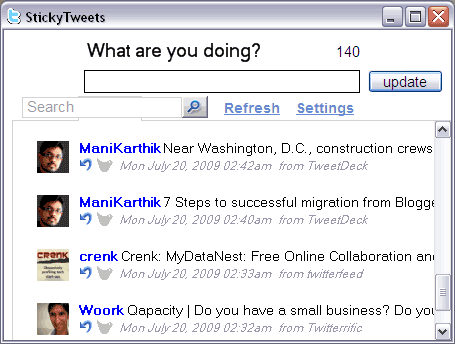 Related – Twitter in Outlook, OutTwit hidden at work!
To get started, download Sticky Tweets EXE file (just 369K). Double click on the downloaded file to see login screen. Enter your login details to see latest tweets flooding your Twitter timeline. You can send quick 140 character tweets using text box at the top.
There are few basic settings like setting refresh time frame, no images, tweet filters and integration of URL tr.im URL shortener. Download StickyTweets – it is simple, sweet and does not hog system resources while you tweet!