Google Docs is an interesting online word processing alternative. Besides typing text, you can spice up documents by inserting images, tables and other text formatting. New Google Docs editor makes managing images very easy and quick. You can play around with image size, position using quick click and drag routine.
Edit size of images in Google Docs file
1. Goto http://docs.google.com and login into your Google account. Then makes sure you are using new version of Google Docs. Goto Editing tab in Google Docs settings and check "New version of Google documents" option.
2. Then create a new document and goto Insert > Image to add an image to document. Single click on inserted image, it will bring up controls that let you scale the image's size in any direction.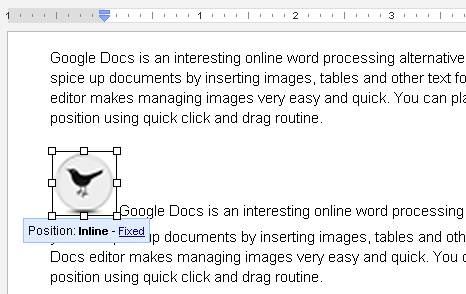 3. Use mouse to increase / decrease image size using controls in any direction. Once you are done with image resize, click fixed option to fix the position of image in the document. When an image is fixed, any text you enter will flow around it. [via Gdocs blog]