Gmail (Google) account is very important for majority of web users. We try our best to stay protected from hackers breaking into Gmail email account. Security risk increases considerably when you login into Google or Gmail account from unknown public computer. Your login details might be captured by keyloggers and other network sniffers. If you carry our phone (or tablet like iPad), then there is more secure method of logging into Gmail (Google) account using QR code that does not require you typing the Gmail username and password details in web browser on public computer.
Scan QR code using phone, tablet for Gmail login on PC
Ideally while trying to login into Gmail (Google) account, we open login webpage in web browser on public computer. Then enter username and password details to login into account. During typing of login details, there is maximum chance of login details getting stolen. Since following procedure does not involve typing of login details in web browser on public computer, is more secure.
1. On public computer, open http://goto.google.com/login (or http://accounts.google.com/sesame ) website. This will open webpage with big QR code image in the middle.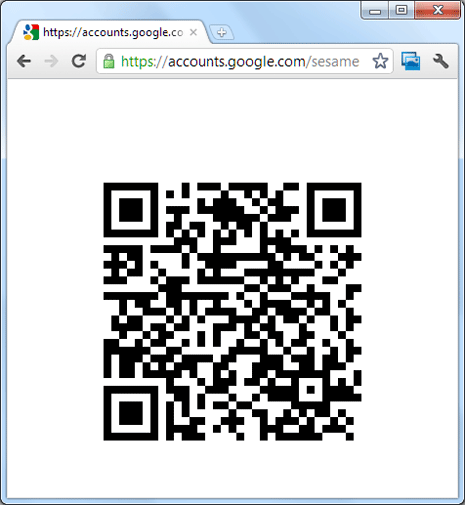 2. You need to scan this image using QR code reader on your phone or tablet. iPad and iPhone users can use free QR Code city app, while Android users can download Barcode Scanner app from Android marketplace.
3. Once you install the required app, launch the application and point camera of your iPad or Phone towards computer screen showing the QR code image for scanning it.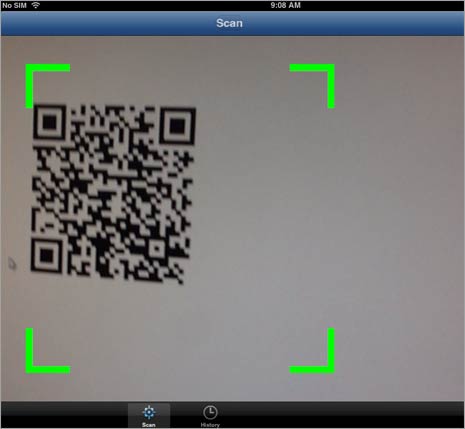 4. Once QR reader on Phone or tablet scans the QR code, it will launch Google account login page on the phone or tablet. Enter your account username and password details on Phone or tablet (not on the public computer). Then you will see following alert screen..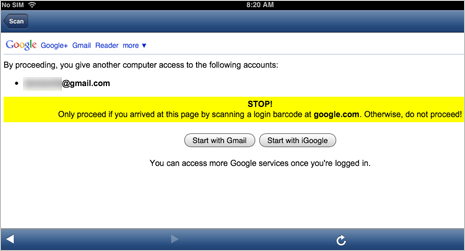 5. It reads "By proceeding, you give another computer access to the following accounts". Click Start with Gmail button and you should automatically login into Gmail account on the public computer. Once logged in, you can also open other Google services like Reader, Docs and so on.
This for sure is very secure method for Gmail Google account login, it must be used when you are trying to login on unsecured third party public computer and have mobile or tablet handy for qr code scanning.