UPDATE – We have removed link to this app – demeed illegal !
Last.fm has tons of streaming audio to cater to your music needs. Now you can save this streaming music using standalone free program called 'TheLastRipper'. It is designed to rip and save songs streamed on Last.fm website.

Besides downloading and installing this software, you also need a last.fm user account to able to rip music. You can use search option to look for any specific song or artisit on the website and start recording the music you want. Basic features of the software include:
It can record Last.fm streams to mp3s.
Organize your music in directories: Artist/Album/Track/
Generates playlist in M3U, SMIL, PLS.
Appends ID3v2 tags with improved clipping of songs.
International characters & support for http proxies.
Newer version of program has new cool look.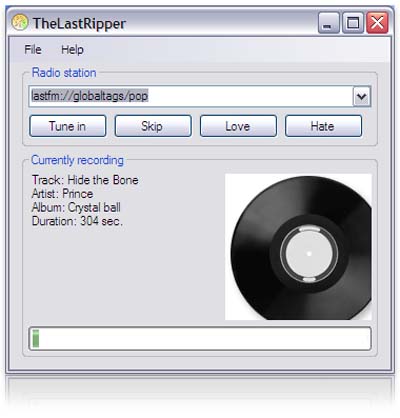 TheLastRipper: Website – Screenshots – Download 
The Last Ripper is available for Windows, Mac and Linux. Windows user can download the latest version 1.3.0, while Mac & Linux can download older version 1.1.1 Get set to inflate your music collection. For Bollywood – Hindi lovers check out ChutneyRadio channel on Last.fm