In usual Image search one has to click on thumbnail Image preview to open the webpage that actually has the image appearing in the search results. After opening the external webpage you can view or copy the image in its full size/resolution.

How about doing all the above steps in a same window without jumping here and there? Well that what Image Search 'Media Mingle' hope to achieve. Very impressive image search service that allows you to search and download images on the fly.
Enter the keyword for image search, select the size of image among: any size, icon, medium, large and extra large. Select the filtering option ('no filtering' may bring naughty results!) and hit the search button. Here is what you will see on the screen.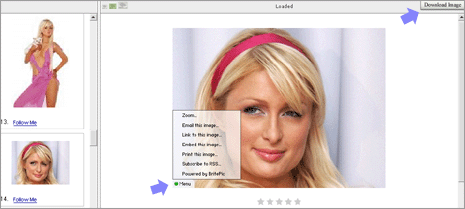 Main window will be blank however thumbnail preview images will start loading on scrollable window on left. Click on any thumb image and the full view of image will appear in the main window. You can click on 'download now' button at top-right of the main window to save images quickly.
Large size image is embedded as Britpic(if you dont know about Britpic, please do not worry). Large image preview are in flash format that allows you to quickly zoom in and zoom out. A Click on Menu button on image will provide you further options to embed, email and print image.
Media Mingle: Click here to access Media Mingle Website
One very handy service to search only images. It lets you perform all the chores of image searching in the same window without any pop-ups or flashy advertising. Very Like-able & Usable!