Feeling bored online? want to stir up your mind with some melodies? Well, how about listening to some cool songs online?

Songza let you jiggle and search internet Jukebox for melodies you want to hear. A very simple and bright looking music search engine to dig out music.
Besides functionality, the look of the search engine is really good. It is simple yet jazzy to eyes, full marks to the designer of the website.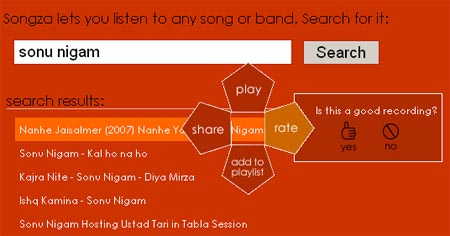 You can rate a song for Good Recording.
Share a song with your friend.
Embed song on your website.
Listen to the song right there.
You can add to playlist.
Songza: Website to Search & Listen Music
A very good option to search and get hooked to favorite music at anytime when online, what say?