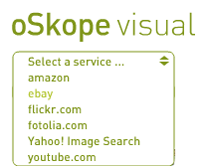 Searching by going through 'Text based' search results is a passe' and searching with image preview results is getting big. Recently Media Mingle came out with a free service to search and download image in one window without hopping here and there.
Now we have oSkope Visual Search that lets you search images, videos and much more from number of popular websites using visuals (small images). Visual search results are displayed in the form of small thumbnail images. Click on the thumbnail show more details regarding that image or video.
First select the source website for your visual search. At present you can search from Flickr, Youtube, ebay, Amazon, Fotolia, Yahoo Image Search (more will be added soon). After selecting the website, enter the keyword for search and hit the Enter key. You will get search results in small image/thumbnail format.
Click on any thumbnail to see more details of any image or play video. You can also access the original URL of the content in search results. Best part is "My Folder" option - you can drag any search item to 'my folder' and on clicking 'send this folder' button items will be saved for your future reference.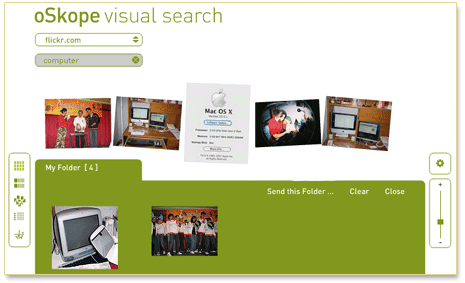 You can also customize the display of search results page among: grid, pile, list, graph and stack. Background color of search window can be changed using options on the right middle part of the search window. You can also change the thumbnail size using slider on the right.
oSkope: Click here to access oSkope Visual Search 
This Free service is very handy if you want to search for stuff by checking out image preview of keyword being searched. Also, saving of search items in my folder for future reference is a cool addon!