For starters: Scraps are messages that one Orkut user can send to other user in their profile. Ideally, a scrap is visible to every user linked to your Orkut profile. From now on, you can send private scraps which is only visible to Orkut user you are sending the scrap. Further, recipient can reply to private scrap with reply only visible to you – resulting into complete private conversation between two Orkut users.
Post private Orkut scraps to specific user

1. Login into your Orkut account at Orkut.com
2. Then goto Scrap (book) of Orkut user whom you want to send (private) scrap.
3. Write the message for the scrapbook and select "Only to me and him" option from drop down box next to "visible to" option.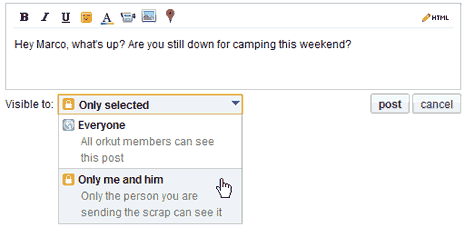 4. Click on "Post" button. This scrap will be only visible to specific sender and receiver. It will also have lock icon indicating scrap is visible only to selected friends. [via Orkut Blog]