Microsoft Vista and Live recently made official debut on youtube with its 'WindowsVistaAndLive' channel. They have uploaded some videos showing goodie-goodie things about their products. Videos are not advertisements instead showcase use of Microsoft products in daily life.

But Microsoft made a mistake of launching (vista?) this youtube channel with comments open. This could be Vista bashers latest alternative to vent out their frustration. Comments seems to piling up with most of them echoing Vista being copy of Mac OS, not so good, slow and more.
In case you want to get look of Microsoft Products, Microsoft way – then check out this official channel, it has 9 videos to show Microsoft Vista story and much more. Before that here is the sneak preview of few comments there.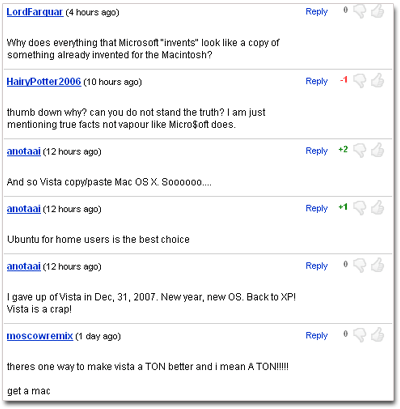 Here is more at Windows Vista and Live youtube channel. Some video to watch and some horror stories to hear in comments!