How often have you prevented yourself from uploading personal pics on social networking websites like Orkut, facebook? The fear of your personal images  being abused rather than properly used is always there.

2pad could be one alternative to address this privacy issue and provide a place to keep your personal photos and videos Private! Also provide an effective way to share photos among your friend and family. 2Pad uses unique combination of email and web photo and video sharing security technology.
So for a new account you do not have to go to 2pad website instead you need to open your inbox. Here is how 2pad works.
Open your inbox – gmail, yahoo, aol anything!
Write an email and attach your pics or videos.
Send that email to 2pad@2pad.com
Within 2 mins you will receive email with link to your private gallery.
Click on the link provided and you will see something like… (see pic)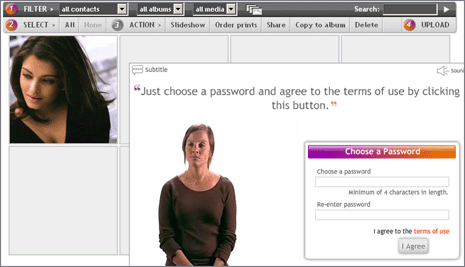 You can see the pic (Aishwarya, my fav!)  that I emailed to create an account. As soon as link opens, a video will start loading. Check out another lady above, she will explain you how to proceed further with 2pad account. You will also get popup to enter password for your new account.
After you account is created you can upload your personal photos and videos. You can share any specific photo or video present in your 2pad account. Besides you can also add comments to images being viewed. Free account has restricted storage of 1GB and video duration upto 5mins.  Storage restrictions on free account could be a turn OFF for some. 
2Pad: Website - Guided Tour – About 
Nice and different way to store images and videos with a promise of keeping everything private. Surely worth a try, however use discretion while sharing personal information on internet.