There are number of Online Image editors to play around with images but most of them deal with editing and producing static images. Here comes an alternative 'LunaPic' that not only does usual photo editing routine with ease but also add life to your images.
Using this free online tool you can add different types of animation effects to your static images and bring them to life. See the example on the left, this effect is called 'Old Movie Effect'. It took less than 2 minutes to make.
The layout of the tool is very good, being a first time user I wasn't lost anywhere. I was able to access effect/editing tool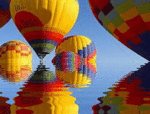 as per my requirement. Simply hover the mouse over top menu and you get host of other options.
Most interesting and unique feature of this tool is ability to animate. Also it shows all the animation effects with examples which makes it more easy to select the type of animation for your image. It also allows you to:
Animated Winking Tutorial.
Vote on your favorite Pics.
Help forum for support.
Create a pixelated animation.
LunaPic: Website – Animation Examples – Forum
Lunapic is well integrated with Facebook, photobucket and flickr. You can edit, animate and play with your images on the fly with this tool, get going!
Incase you want simple animation tools for text and images that work offline on your computer then check out 3 Simple software to create text, image Animations.