Ideally one would go to a professional photographer to get photo clicked for passport purpose. If you have a digital camera and active internet connection – why not click passport photo for free? Each country has different specifications for the size of passport photograph, background texture, face position and more. There is no need to research on such details, free online service epassportphoto can handle it all for you. It guides you how to click your passport photo and allows you to edit it for final print online using their passport photo resize tool online.
epassportphoto: Click, Resize & print passport photos
1. Open epassportphoto website. Then select country of your choice from the drop down box. Based on your country selection, the correct photo size for that country will appear in the drop down box below.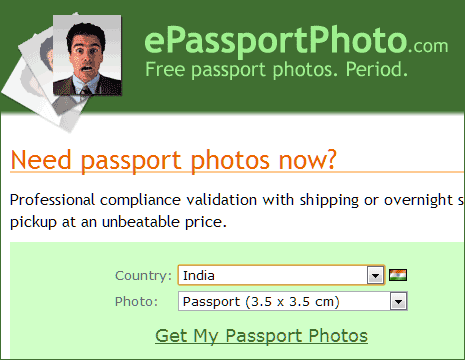 2. After selecting country, click Get My PassPort Photo button to continue. Make sure you select correct country of your choice.
3. Next screen will provide visual guidlines on how to click your passport photo at home. Make sure you turn off overhead lights to prevent shadows. Stand close to background wall, which should be either white or off white in color.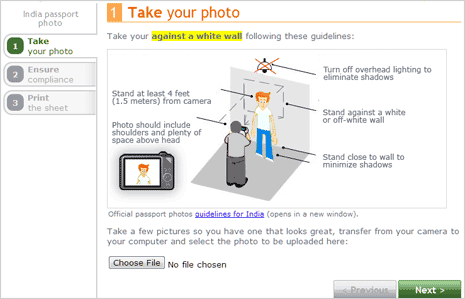 Stand atleast 4 feet (1.5 meters) away from the camera and make sure to include shoulders and plenty of space above head. You can also check official guidlines for passport photo for specific country by clicking link provided on that webpage.
4. Click and capture photos as per provided guidlines. Then transfer photos from camera to your computer. Now click Choose File button to select and upload the your best photograph.
5. Click Next button to upload the selected photo. You will see your uploaded photo in online editor. Using mouse select the part of photo that you want to show in the final passport photo. While selecting photo area, make sure the edge of chin and the top of the head must be inside the green rectangles.

6. Click Next button to get final photo sheet. You will get option for paid printing of passport photo. Alternatively, you can download created passport photo sheet online for Free and then print using your own printer by clicking No Thanks button.
7. On next screen, download the passport photo sheet image button to save the photo sheet on your computer. You can print it anytime and then cut small photos from full printed sheet easily.