Simpl.es is another addition to 10 URL Shortening or Snipping Services. It converts a long URL into a small and easy to remember URL. For example: OriginalURL – http://www.tothepc.com/archives/2-ways-to-open-firefox-search-results-in-a-new-tab/ Simpl.es URL – http://simpl.es/XiqUgQ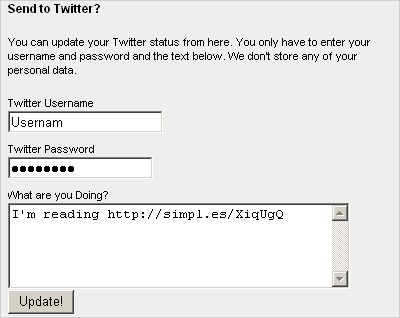 Simple enough, right? This web services comes with a Twitter Twist. Besides shortening your URL, it also provide easy to use web based interface to share simpl.es URLs on Twitter.
You need to enter your Twitter username and password. Then edit message under 'What are you Doing?' and click on update button.
So after shortening the URL, you can  send instant update about the URL in focus withTwitter. Remember this is third party web app for using Twitter. Use discretion while sharing login details and play safe!