Youtube has tons of videos online. Sometimes you are lost as to where and which video to watch first. One better way to check cool videos is checking "Videos being watched right now" section on Youtube Homepage.

Video flashed in that section change very quickly and you may miss few good videos with a blink of eye. Making the process of checking and managing currently watched Youtube Videos is TubeSpy.
Besides showing currently watched Youtube Videos it provides host of other options to track and manage them with ease. Video keep flashing on the left pane of the website. If you like a video and want to save it for future viewing click on + sign next to the video. You can even stop the slideshow of videos with pause button.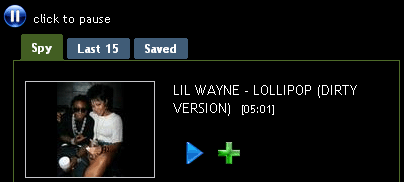 You can easily view recently saved videos on the right pane of the website. Besides, you can also check last 15 and saved video list using tabs as shown in above image.
Just like idesktop TV, it is another way to browse and watch some cool Youtube Videos. With TubeSpy you can never miss videos creating all the heat on youtube. Check out TubeSpy
Related – iDesktop.TV An Improved Version of Youtube Desktop