Gmail powered with Google Gears allows you offline access to email messages of your gmail account. You can also send replies, which are delivered as soon live internet connection is detected. If this is too much of task, then try free Adobe based desktop client for offline Gmail access 'Geemail'.
Geemail interface is very similar to classic Gmail interface. As pointed by Webware, it very quick as compared to gmail offline feature powered by Google Gears. But this speed comes at expense of non-availability of labels, attachments, photos and message search feature.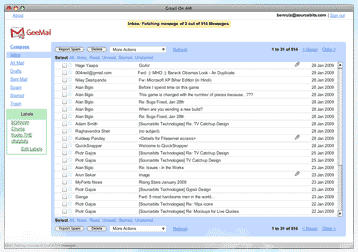 If you need quick access to you Gmail messages (the text part), then Geemail looks very good alternative. Download Geemail client (and Adobe Air) and access Gmail in offline mode anytime, anywhere – try out!