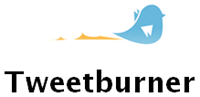 Twitter is getting all the good attention with loads of new Twitter apps. After Twitsig (tool to create dynamic signature from latest tweet), here comes TweetBurner.
TweetBurner allows you to keep track of what happens to the links in tweets shared with you, by you, by your friends and every other twitterer. It provide statistics for the links shared by you via your tweets on twitter.
You can track number of clicks on links shared by you on twitter. Homepage of TweetBurner lists top 10 URLs with most clicks in the last hour. It also show tweets with most popular Twurls in the last hour
Twurls? You need to shorten the urls to tweet and then track using tweetburner. Just like any other URL snipping service, enter the original URL and click 'Shorten it' button to get snipped up twurl.
TweetBurner will track and provide you statistics regarding all the Twurls you share in the twitter world. Checkout TweetBurner