Do you want to stay updated with latest weather conditions in your area while working on computer? Weather Notify is a portable application that display latest weather information for selected location in a neat window. Information is displayed in translucent window which you can drag and place at any part of the desktop screen.

To get started: download the application zip file, unzip it and double click to launch the application (does not require install). Click on options button at extreme right to select country – city to view weather information. You can select among: weather, temperature, wind speed and wind direction information. You can even configure weather window to show vertically or horizontally.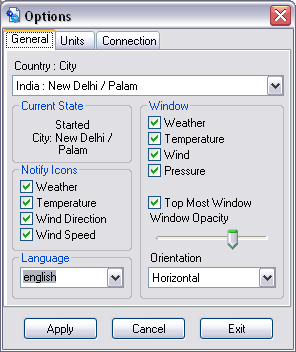 Related – Check city weather online, your flash forecast
Latest weather information is displayed by this application through services at weather.noaa.gov website. You can also configure units to display temperature (like Celcius, Fahrenheit), wind, pressure, height etc. Download weather notify to display latest weather report on the desktop screen. Being portable you can carry this application in a USB drive and use it on any computer.