Google search can be used for lot of things besides searching for web resources related to specific keywords. We can use Google search for PDF ebooks, music – videos, public phone numbers and lots more. You can also use Google search for checking latest weather forecast of your city.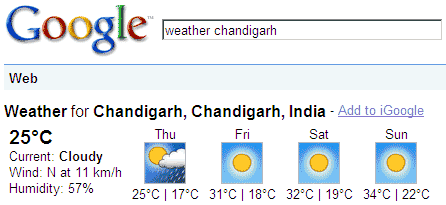 Related – Google Special Search for Apple, Microsoft, Linux
Just type weather cityname and hit the enter key to see latest weather conditions. It will display current temperature, humidity and wind speed. You can also see weather forecast for next 3 days. Very handy and useful for quick check on weather conditions using Google, what say?