We have already seen damn simple way to check – Is it going to rain today? If you need more details, head over to WeatherFlash website. It shows weather information for selected city in no frills, simple interface. Just type the name of the city in top search box and hit the enter key.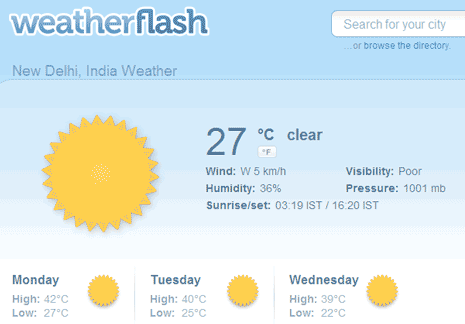 Related – Check weather forecast with Google search
You can also perform weather check for various cities neatly categorized under different continents from the directory section. It shows temperature, wind speed, humidity, visibility, pressure and sunset / sunrise time for selected city. It also displays weather forecast for next 2 days and pulls the data from Environment Canada, NOAA, and BBC Weather. Checkout Weather Flash for neat and easy display of weather information of any selected city.