Favicon is a small icon displayed next to website URL on the address bar. A unique favicon can catch instant user attention and long-term familiarity with a specific website or blog. If you are not sure regarding,  if website or blog has a favicon – here is a quick check web service, favicon validator.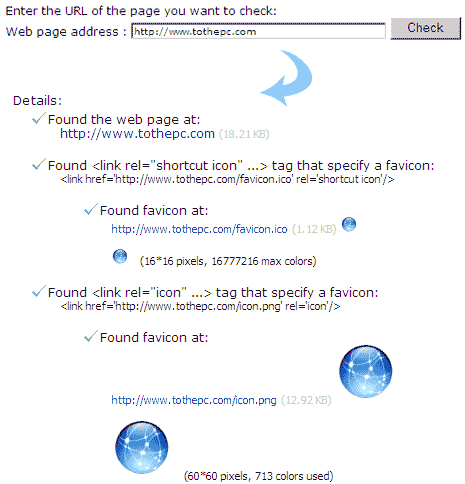 Just enter any website URL and hit the check button. Favicon Validator web service will check for favicon image for specific URL (as provided). Above image show Favicon details for tothepc (we do have favicon!). In case you do not have favicon on your blog or website, explore following resources:
Grab and Copy favicon of your favorite website. Enter the URL of your favorite website, copy the favicon and display it on your own website. Checkout huge collection of Favicon icons collected all over the web.
Blogger users check this guide to add favicon to your blog with ease. Lastly, here is cool web tool to create favicon and avatars from your images. Now there is no reason for missing favicon on your blog or website.