Sherv's 'Icon Maker' is a quick tool to create as many Emoticons, avatar or display picture from your favorite images. No need to download avatars and emoticon from other websites. You can create them yourself in less than a minute.

With this cool web app, you can create multiple emoticon and avatars from same image. Procedure to use this is as simple as it gets. First select the image, which you want to use to make emoticon and avatars.
Now, upload that image from your computer. Then select the size of resultant image among various options like: display picture/avatar, Big Emoticon and Small Emoticon. Then select the part of image you want – by moving the selection box with the help of mouse.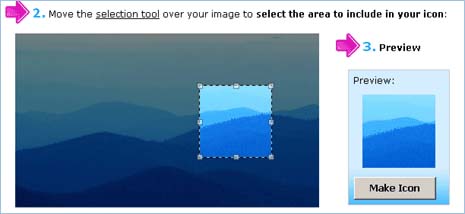 You can view the live preview of your selection. Once you have selected a specific part of image, click on 'make icon' button.
Icon Maker – Click here to create your own Emoticon or Avatar pic
Right click and save the created icon. Use your creations the way you want. Quick, easy and useful, what say?