Ideally checking weather online will make you see lot of blue color, animated clouds and big temperature text figures splash all over the screen.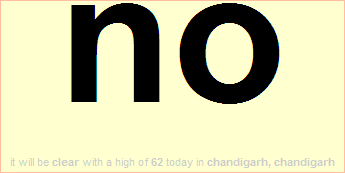 There is more, one has to select the city, enter zip code, this and that to get the final weather details. Did we forget numerous weather widgets for desktop? They show weather by popping up now and then on your computer taskbar.
Here comes relief. "Is it Going to Rain? is web's simplest way to check weather in your city. No need to enter zipcode or fancy graphics ready to be splash on your screen. Just visit the website and it will tell in 'Yes' or 'No' the rain condition with temperature listing below.
See image above? It shows weather in my city with big NO (based on the IP address of internet connection). As pointed by Pete, wonder if anyone can make a weather site more simple than this. So, is it going to rain?