Want to jazz up looks of your Windows mobile phone? Microsoft already offer loads of free themes (ringtones, wallpapers) to spice up Windows phone. Now there is another option for more customized themes using official "Windows Phone Custom Theme Creator". It is an online tool to generate custom theme with user specified color, style and background image.
Make Windows Mobile phone theme online
1. Open Windows Phone custom theme creator tool.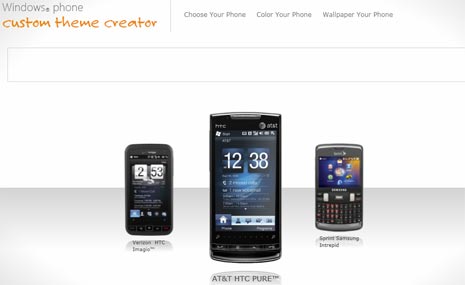 2. Select phone among: HTC Imagio, HTC Pure, Samsung Intrepid.
3. Then click to select color and style for the theme.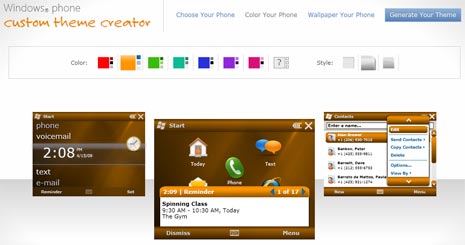 4. Click "Wallpaper Your Phone" link at top right. Then click "Upload Image" button to select specific image on your computer. This image will be used as wallpaper in the final theme.
5. After image selection, you can customize image properties including: color, contrast, size, position and effects.
6. Then click "Generate Theme" button and enter any name for the theme. Download final theme on your computer or enter your phone number to receive theme download link via SMS. [Thanks Sumeet Gugnani]
Note – It is a Microsoft Silverlight based online tool. Make sure you have Silverlight plugin installed on the computer to create themes using this online theme creator.