A plugin or add-on can make Firefox serve more than just web browser. We have already seen, how a firefox extention 'SimpleMail' can turn Firefox browser into complete email client.
You can turn Firefox into full blown File Manager or file explorer using cool add-on 'FireFly'. Using this you can browse files as you would on Windows Explorer or Konqueror.
Performe basic file operations within Firefox browser like copying files from one directory to another. You can also split the view to 2,3,4 and more panes as you like. It also allows instant Audio/Video preview, Documents, PDF and image files.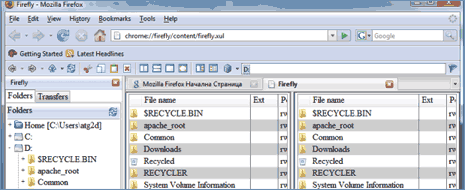 Download Firefly and make you Firefox a full blown file manager. You won't miss Windows explorer as you can do it all in ever so familiar FireFox!