Some PDF file are restricted and locked for further copying. Such locked PDFs prevent users from copying or printing its content. Inspite of locked status, one can still unlock such PDF files to open, copy and print its content using unlocking tools.
Online tools to Unlock PDFs
1. PDFunlock – As the name suggests, it is an online tool to unlock any PDF files to access it content for copying and printing. Click browse to select locked PDF file on your computer and then click Unlock. It does not remove password protection from PDF files and support maximum 10MB PDF file size.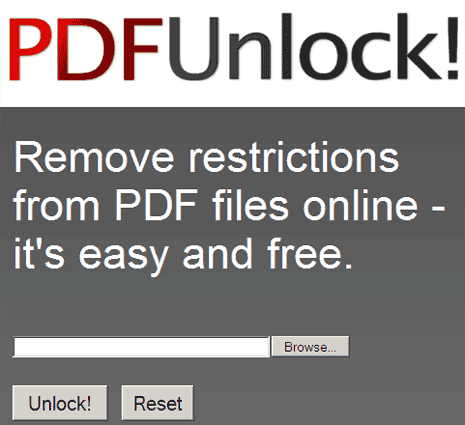 2. Ensode PDF Unlock online – Click browse and select locked PDF file on your computer. Click submit button to get unlocked version of locked PDF file. It supports maximum 5MB PDF file size. [Also See – Free portable PDF viewer software to open PDF files]