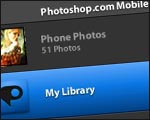 Photoshop.com has gone mobile. It is an online service to store and share photos for free. After you register for an account, you get access URL like: yourname.photoshop.com Besides storing and sharing photos, you can edit photos and add jazzy effect online using 'Photoshop Express 'at photoshop.com
Now you can do all this using your mobile. On the road and just taken a picture? Well, upload it to your photoshop.com account for safe and easy storage. Browse your photos anytime from mobile phone. Here is procedure to get started:
Go to http://m.photoshop.com using your phone web browser.
Select your phone model and download of the beta software.
Alternatively, On your computer, go to Photoshop.com. Sign in or create an account on Photoshop.com. Then select your phone model. Enter your phone number to request an SMS message. Then, open the SMS message on your phone and click the download link to start downloading the software. Go mobile with Photoshop.com and safely store photos taken by mobile anytime, anywhere!