If you have a website or blog, it is always advisable to get it listed in Google Webmasters Tools to track its status in Google Search index. Google Webmasters Tools provide very useful information about your website or blog in relation to its position in Google Search. You can evaluate the information and improve on website's ranking. Besides submitting website URL, you need to verify its ownership and now we have new (more easier) method of verification using DNS record.
Add DNS record for website verification
1. Goto www.google.com/webmasters/tools and login using your Google account. Add you website or blog URL. If already added, click 'Verify this site' link next to your added website URL listing.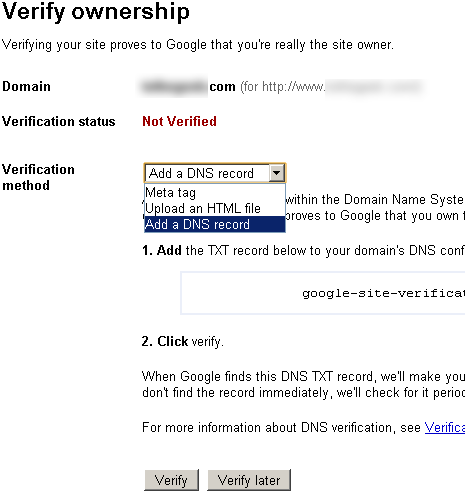 2. On website verification webpage, select either of 3 methods of verification among: meta tag, upload HTML file and add DNS record.
The upload HTML file and meta tag addition method can be cumbersome to implement. Now you can explorer much easier and neater way of site verification by adding quick DNS record. This method has one downside, it does not result in instant verification. You need to wait for few hours before DNS record is fully updated and Google is able to verify website. [via GoogleBlog]