Ideally, one can see all devices on the computer using Device Manager. However, the tree structure and lot of clicking can be little tough to view all devices in a quick glance. Making things easy and quick is alternative Device Manager utility "DevManView". It shows device manager contents in a neat tabulated layout.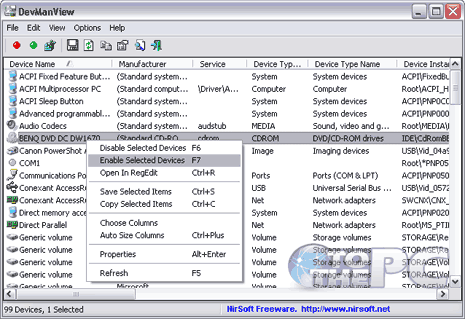 Besides viewing all devices on the computer, you can right click on either device to: disable devices, enable device, open in regedit, properties, refresh. Lot of other information is shown for every device including: manufacturer, service, device type, device instant ID, location, capabilities, config flags, device registry time, driver description, driver version, .inf file section and much more.
It is a fully portable utility: just download, unzip and launch the utlity to see devices on the computer. Works fine on Windows 7, Vista, XP and so on. Grab DevManView utility for better and more easily accessible contents of Windows device manager, like it?