Now you can watch full length CBS TV shows on your iphone. CBS has launched free (US only) iphone app called TV.com application. Besides full TV show viewing, you can also checkout video content related to sports, news, and entertainment. It works with both 3G and Wi-Fi networks.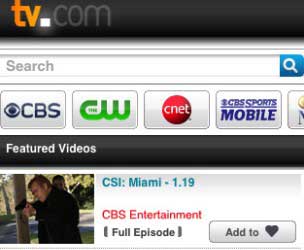 However, high quality video content is only available on Wi-Fi networks. Using this application you can search for any kind of required video content. You can also create custom feed of content with keywords and shows you like. You can see latest clips, interviews and promos – along with few full length TV shows.
Please note, TV.com iphone app is US only. Checkout this free app for some top TV shows like CSI Miami from CBS network - iTunes app page.