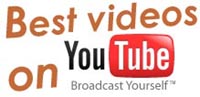 Well Youtube does not need any introduction. It has really huge collection of user generated videos, ranging from different categories. Due to this huge number, it can be a real pain to check out top videos quickly.
Possible solution to this is websites that offer viewing of top Youtube videos, thereby cutting the cutter and showing the best. This not only saves time, but also help you in-tune with top videos with minimum of time spent. So, here goes the list that you should be handy for you.
1. Viral Video Chart: They publish a list of the 20 videos that generated the most buzz. Who makes top 20 is based on the number of times each video is linked to and the number of times each video is embedded.
2. Pure Video:Very good site for a quick view of what is topping Youtube and also other video sites like MetaCafe, DailyMotion, Revver, BlipTV, Metal Funk etc.
3. TheBestofYoutube: Name says it all, it is a blog  that displays top videos in a very clean layout. Lot of catrgories to chose from various kinds of videos.
4. The Internet TV charts:The Internet TV charts track the most popular video clips from leading Internet TV sites. All the best online video clips, on one page with column wise display of top videos from Google Videos and Youtube.
5. CatchTube:Interesting mix of youtube videos on this site. Lot of videos to check out under nealty categorised format as new, features, most linked etc.
6. Top Youtube videos in Mosaic:Very interesting way of showing top 101 videos. A collage or masaic of thumbs from videos is shown. Simply move the mouse over the photo-thumbs, video details will pop up and you can watch the video!
In case you know any other similar website, feel free share it in comments.