Just like any other social networking website, Orkut users upload and share lot of photos. It is important to set sharing rules for each photo album containing your personal photos. You can enforce strict sharing setting that allow sharing of selective photos with only specific Orkut friends.
Share albums with selective Orkut friends
1. Goto Orkut.com and login into your account using your Gmail or Google account.

2. Click on Photos button and then click on 'Edit' button on photo album whose photo sharing preference you want to change.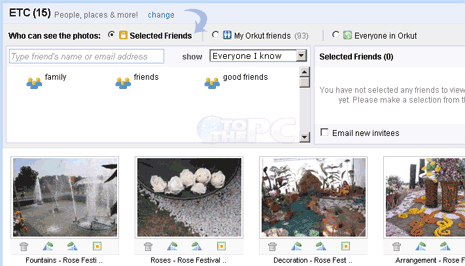 3. Now click to select "Selected Friends" option. Then select specific friends with whom you want to share that photo album.
Besides selected friends option, you may select option to share photo album with everyone on Orkut or with all Orkut friends. Now you can also upload Picasa photos to Orkut photo albums.