Like it or hate it – ribbon interface has jumped from Microsoft Office program to core Windows Explorer display in upcoming Windows 8 operating system. Newer Windows 8 will have ribbon user interface at top of the Explorer window. This will allow more visibility to commands and functions one can used while navigating files within Windows Explorer.
Screenshot: Windows Explorer in Windows 8 OS
Following is a teaser screenshot of Windows Explorer style that you might see in upcoming Windows 8 operating system. While the main window and left navigation sidebar is similar to Explorer on Windows 7 operating system – top part of Explorer has gone through radical makeover with introduction of ribbon user interface. [via msdn Blog]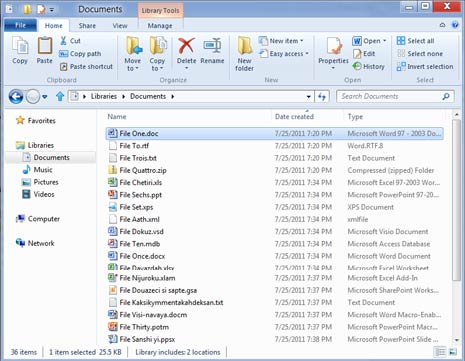 1. Most used commands are listed under the Home tab of the Windows Explorer. These include: Copy, Paste, Delete, Rename, Cut and Properties. According to Microsoft, these are 84% of total commands used by user in Windows Explorer.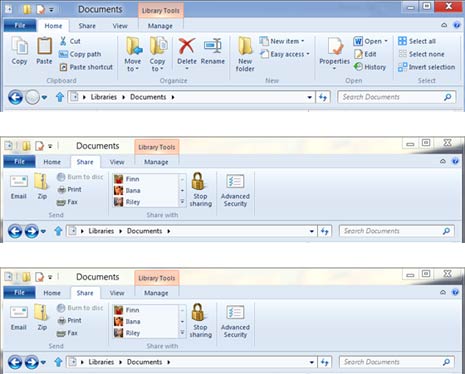 2. Other not so used commands are organized in other tabs. Like Share tab can be used for sharing files by typical methods like zipping them up and emailing them to a friend, or burning them to optical media. View tab allows customization like one-click access for turning on/off the Navigation pane, Preview pane, and Details pane.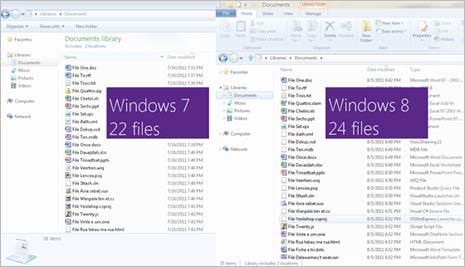 3. Overall screen space for showing files have also increased. Even though ribbon has inflated the top part of Windows Explorer, the status bar at the bottom has been made more slim. Hence, now you can view more files (alteast 2 more rows of files) in Windows 8 Explorer as compared to Explorer on Windows 7.
Video: New look Windows Explorer on Windows 8