New version of WordPress (2.7) should be out in November. Besides the usual de-bugging, WordPress again gets rejig in user interface.
 

Top menu has been placed on left side in a a fixed frame. You get access to all option on the left menu without scrolling the page down (that is cool).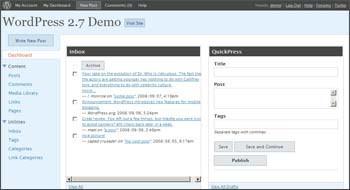 First view may look wierd placement of menus and links spread all over. But as you use it, this for sure looks more comfortable and easy. Click here to demo WordPress 2.7 without install (use demo as username and password).