Do you want to zoom in and magnify specific part of the screen? This can be easily done on Windows 7 computer using in-built "Magnifier" tool. After launching this tool you can magnify to any portion of the computer screen and view finer details of any opened application, file or image.
Use Magnifier to Zoom on Windows 7
1. Click Start (Orb) button & then (type) click 'Magnifier' option.
2. Click + sign to Zoom In and – sign to Zoom Out.
3. Click Views to select either of view option among: Full Screen, Lens, Docked.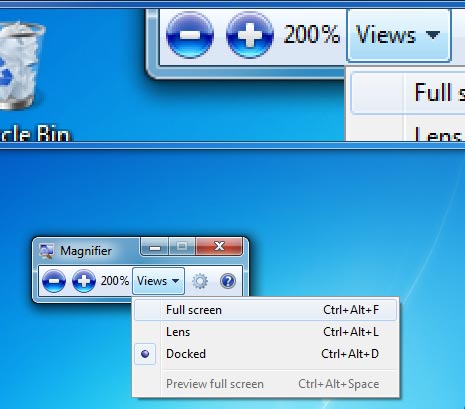 You can select any view option as per requirement. Docked option is most comfortable for clutter free magnification, while lens is ideal for zooming on smaller portions of the screen. Alternatively, if you only want to magnify webpages – then use zoom feature in browsers like Internet Explorer and Firefox.