LinkedIn is a popular website to create profile of your professional expertise and accomplishments. You can network and connect with like minded professionals through linkedIn website. If you are a blogger or webmaster, then you can add new 'LinkedIn Share' buttons to your blog, website or journals. It helps share your content with more targetted and professional audience.
Insert & display LinkedIn button on blog / website
1. Open LinkedIn for publishers webpage to grab code for share buttons.
2. Click to select type of LinkedIn button that you want to display. You can chose among: Vertical count, Horizontal count or no count buttons.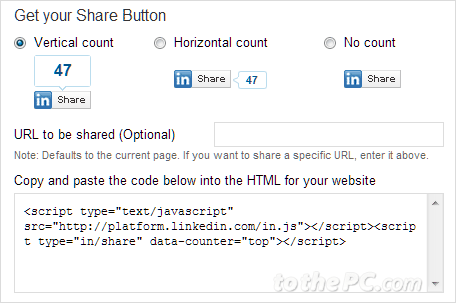 3. Enter specific URL to be shared (optional). Leave it blank, if you want to share current webpage URL.
4. Copy the Javascript code and paste it into template where you want to display the LinkedIn button.
LinkedIn share buttons provide an easy way to get a conversation started with clients and colleagues you haven't reached out to in a while. [via Linkedin blog]