Skype is a great tool for text, audio and video communication. It is used by lot of users, infact few users keep logged into Skype all the time while using computer. With all the goodness, there comes an annoyance of Skype friends disturbing you when you are doing some important work on computer. You can easily eliminate this problem by automatic Skype status changing technique.
Skype Status Changer keeps focus on important tasks
Say your are working on important presentation in Google Docs opened in Google Chrome browser. Ideally, any Skype friend can send you message during this time (as both Skype and Google Chrome are separate programs). Also, your Skype friends do not know the fact "Your are busy, at the moment".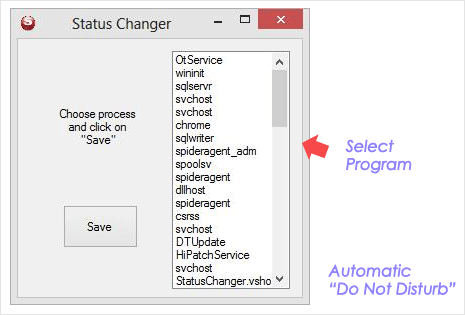 1. Skype Status Changer programs links Skype with other programs seamlessly and prevent any unwanted Skype messages from friends during that time. Once you install this program, select specific program from the list and click Save button.
2. For example: you have selected Chrome program in this utility. As soon as you open Chrome, your Skype status will automatically change from "online" to "Do Not Disturb". Once you are done with your work in Chrome and close it – Skype status automatically revert back to "online" status.
So, whether your are playing online game, working on presentation, designing in Photoshop or any other important task – configure this utility to change Skype status to "Do Not Disturb" automatically. This is handy for sure, specially for regular Skype users facing annoyance of untimely messages from Skype friends.