A small Skype watermark logo is displayed on the video during video chatting session on Skype. It represent Skype branding while you use Skype for free video chat with friends. By default, this Skype logo is displayed on every video chat. If you do not like display of Skype logo, then there is an option to remove or hide Skype watermark logo from appearing on the video during the chat sessions.
Hide Skype watermark logo on video calls
1. Open Skype program on your computer and login into your Skype account. Once are logged into Skype program, click on Tools > Options at the top menu. This will open Skype Options window from where you can configure various Skype settings.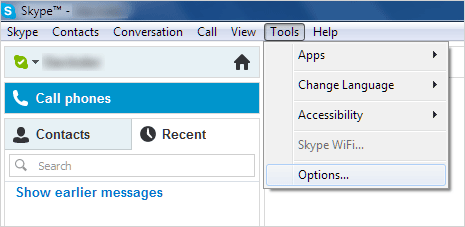 2. Click on Advanced option at the bottom on the left sidebar. By default, this will open "Advanced Settings: Skype updates and external programs" in the Skype Settings window.
3. Click to uncheck (no tick) "Show Skype watermark during calls" option. This click on "Save" button at the bottom. From now on, you will not see Skype logo appearing on video during video chat session in Skype program.
Video: How to hide Skype logo in video calls
Though Skype logo displayed on video is small and non-intrusive, few users may want to even remove that for neater video viewing during video calls on Skype. Above should help you achieve that in few simple clicks and have Skype video calls without Skype logo branding.