Regular Skype users will love this utility to track and view details of their activity on respective Skype account. SkypeLogView is a small utility that reads log files created by Skype application. It shows variety of information related to your Skype account.
You can easily manipulate that information like: select one or more items from the list, copy contents to the clipboard or export them into text / html / csv / xml file. This utility show following information of Skype account:
Details of incoming/outgoing calls.
Details of chat messages.
Information about file transfers.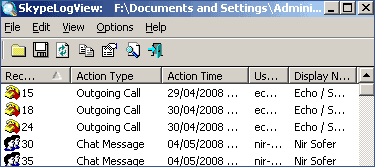 You don't have to install Skype to use this utility. It only needs Skype log file to display information. It works fine, even when original log files created by skype is stored on external hard drive. This Windows based utility is all free for download and use. SkypeLogView [link].
Related – Make Skype Calls from iphone using Fring