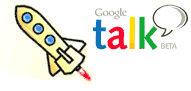 Talkster's official integration with GTalk2VoIP brings huge surprise for all Google Talk users. Now, using Google Talk you can make FREE International Phone Calls to any phone in over 30 countries.
No registration, no credit card, even no sign up needed to get started with free calling ride. You just need Google Talk (desktop version) and your login ID. Here is the simple procedure to make free calls to any international phone using Google Talk.
1. Launch Google Talk on your desktop. Then add contacts the same way you usually do. Click on the Add button to adda friend.
2. Type in the phone number of the person you want to call in the following format. Use full phone number, including country code and area code: phonenumber@talkster.gtalk2voip.com For example: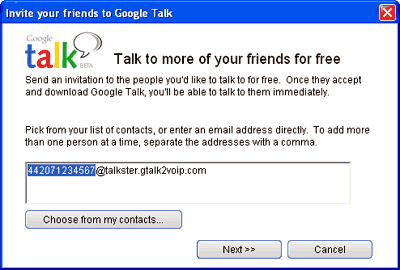 3. You'll get a confirmation from Talkster with instructions. A local Talkster number for your friend in their country. Your friends will use Talkster phone numbers to call-in to be connected with you.
4. After you have added a number, click on your friend's number in your Google Talk Contact List and then click on the Call button to start the call.
You can check detailed instructions to get started and get going with free international calling from Google Talk at gtalk2voip website. Also, check the list of countries supported by this service. Sadly, India and New zealand are not in the list of supported countries!
Related – Listen to FM Channels in Google Talk