Skype provide a simple and easy interface for audio and video calling. Previously, Skype was available for 3G calls on iPhone and basic calling on iPad device. With latest update to Skype app for iPhone and iPad: you can make free video calls using wi-fi connection (in addition to 3G connection) on iPhone and receive only video calls on iPad tablet device.
Features of Skype app for iPhone & iPad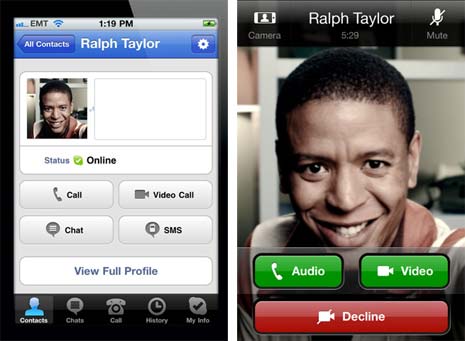 1. Free Skype to Skype video calls using WiFi connection (3G connection may involve additional charges).
2. Make calls to Skype users on Windows or MAC OSX system or other iPhone users.
3. Supports two way videos calls on iPhone 4, iPhone 3GS and iPod touch 4th gen.
4. Allows receive only video which is supported on iPad and iPod touch 3rd gen with no camera.
5. Make video calls in portrait and landscape view mode.
Download Skype app from itunes, it is available in different languages including: English, Chinese, Danish, Dutch, Finnish, French, German, Italian, Japanese, Korean, Norwegian, Polish, Portuguese, Russian, Spanish, Swedish. It is compatible with iPhone, iPod touch, iPad and requires iOS 3.0 or later.
Video teaser: Skype video calls on iPhone
Checkout interesting video teaser of Skype app for making video calls on Apple iPhone device.