Mozilla has announced top3 winning Firefox3 add-ons as a part of 'Extend Firfox3 contest'. (Extend Firefox 3 is a developer contest to encourage development and innovation in Web experience through add-ons to Firefox 3.)
After going through over 100 entries representing hundreds of hours of hard work from people around the world – here are top3 winners.
1. Pencil –It is a Firefox add-on to do GUI prototyping and simple sketching. Pencil makes uses of the SVG support in Firefox 3 to implement all the shape rendering and scripting.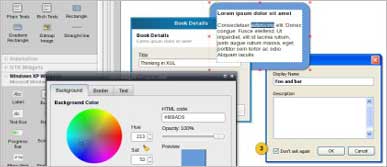 2. Tagmarks –This add-ons adds a set of icons to the quick bookmarks, allowing you to quickly add tags to your bookmarks by clicking on each icon.

3. HandyTag – It simply provides a complete set of most relevant keywords in the bookmark's edition panel. These keywords are retrieved from many different sources.
Besides above, Fire.fm was considered best music add-on. While best updated add-ons winners included: Read it Later, TagSifter and Bookmark Previews. Tryout winning add-ons and find out which is real winner for you!